How to Mining on HashPool:
hashpool CKB mining server address:     stratum+tcp://ckb.stratum.hashpool.com:4300
Mining uses mainnet address starting with ckb  , E.g: ckb1qyqgpl9c7frg6tvlknphgv58uqvrdc3s6qqqctwssd
How to get wallet address:
CKB Node wallet
https://docs.nervos.org/getting-started/wallet  
address: 
    mainnet: ckb1qyq8fxuxz49nvatawuqye0fydpm4gulcs6usgyfkrr (mining with this mainnet address )
    testnet: ckt1qyq8fxuxz49nvatawuqye0fydpm4gulcs6us4phf0l 
lock_arg: b1bc3c78fa72deb65bbd202903f36dc222cbc78e 
lock_hash: ~


2. Use exchange deposit address
You can find out which exchange can trade CKB on CoinMarkcap , click below link to see:
https://coinmarketcap.com/currencies/nervos-network/ 
3.  Use third-party CKB wallet
Cobo wallet: https://cobo.com/
Bitpie wallet : https://bitpie.com/ 
Configuration of hashaltcoin hosted miner
Type your CKB mining address in User name textinput.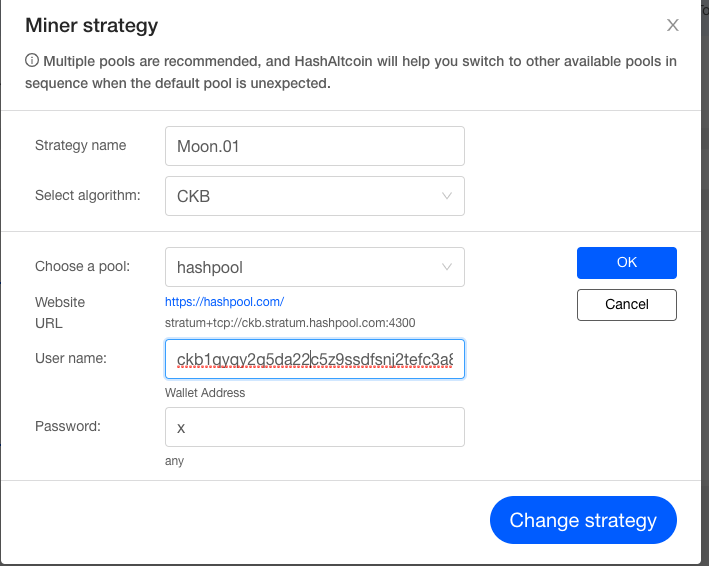 How to check the mining information?
To view the operational status and daily income of the mining machine, you can access the hashpool official website hashpool.com , click on the search bar in the upper right corner, and enter the wallet address to check.
About payment
Minimum payout:  100CKB 
Payment Time: 14:00~16:00 UTC